Free Online Courses: Strengthening Democracy in America
Ready to dive into summer professional development? The Center's free
Strengthening Democracy in America
online courses will deepen your understanding of the American political system and your rights and responsibilities in it. These 10 courses are open to anyone and can be completed at your own pace.
Learn More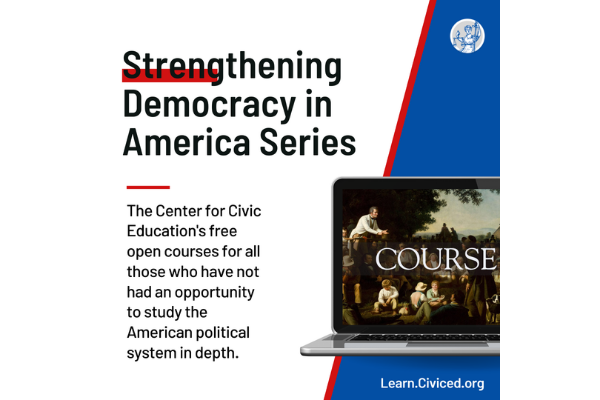 Learn about the Fundamentals of the American Constitutional System
60-Second Civics has a new podcast series available on the fundamentals of American democracy. Listeners will learn about the meaning of such phrases as "we hold these truths to be self-evident," "all men are created equal," and more throughout July.
Check out the American Fundamentals series on YouTube
.
Watch Videos
The Value of Nonpartisan Civic and Constitutional Education
Center for Civic Education President Christopher R. Riano recently appeared on the nationally syndicated Richard French Live show to discuss the value of civic education in a time of mistrust and anger. Riano discussed recent bipartisan efforts to bolster civic education. "A civic and constitutional education is a unifying force," said Riano. "It allows us to understand ... and come to a bigger sense of our history as Americans. A true civic and constitutional education allows us to safely look at some of the weaknesses that do exist in our system, and it also allows us to find ways to be engaged to address those. ... This is a nonpartisan issue and the support of civics should continue to be as it has historically been."
Watch the full interview here.
Watch Video
We the People The Citizen and the Constitution
We the People: The Citizen and the Constitution is an innovative course of instruction on the history and principles of the United States constitution for elementary, middle, and high school classrooms. Since its inception in 1987, more than 30 million students and 75,000 educators have participated in the We the People program.
60-Second Civics
Wednesday, August 04

Daily civics quiz

In the 1930s, the Supreme Court found that the general welfare clause did not limit Congress to its enumerated powers but did state that spending must be limited to



Listen to today's podcast:

Your browser does not support the audio element.