The We the People Alumni Network fosters continuing communication
among the program's past participants.
If you enjoyed your experience as a student in the We the People program and want to stay involved please register and follow us on Facebook.



  Register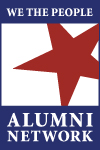 "
Mr Breen!
I'll have you know had the pleasure of voting for the first time today, and I cast my vote for you!!
I also want to thank you for how well the We the People program has prepared me for college classes, more so than any class in high school. I am currently in a Political Philosophy class and use WTP style examples of laws, court cases, philosophers throughout history. My teacher consistently compliments my use of my public law classes... interestingly enough, I haven't taken any public law classes! The WTP program taught me far more than I could even comprehend at the time; thank you for your commitment to the program over all these years!"


Marcella Means, WY


Hello Ms. Cook-Kallio,

Just in case you do not remember who I am, I was on your We the People team in 2009. I understand that you are very busy right now with the election, but I hope you take the time to read this email. I just wanted to take some time in order to let you know that no matter what happens tomorrow, you are already an inspiration to me. While I am more than convinced you will become the next mayor of Pleasanton, you have already made a huge impact on so many people even without this prestigious title. I know this first hand through my own experiences.

Starting off in high school, I was lost. I had no idea what I was or what I wanted to become. Many told me that I was talented, but I never believed them. All throughout high school, this "talent" that so many told me about seemed to go to waste. I skated by with a 2.6 GPA and had no future. Since 8th grade, We the People was a dream of mine. When I applied in 2008 as a junior in high school, I felt I had no shot at all. While I felt good after the interviews, I still felt inadequate around everyone else. The night this all changed was the night I learned I got into We the People. To this day, I do not know how it happened, but I am so happy that you decided to take a chance on me. While those around me doubted the decision to place me on the team, your unwavering confidence in me pushed me through all of these difficult moments. It was through your coaching and confidence in me, I soon began to find a voice for myself. For the first time in my life, I really had a direction in life and went from someone who just coasted by to someone who really worked toward that goal of making nationals. Even after we lost, I knew that I had been forever changed. In those 6 months in We the People, I went from a wasted talent to a believer and a leader. It was under your teaching I was able to become the youngest Human Relations Commissioner in the history of the City of Fremont, CAEB Board of Director for the City of Fremont, and Innovative Board Member for Alameda County. Not only was I successful in my political endeavors, I was also able to use the work ethic I learned in We the People to succeed in my academic goals as well. At Ohlone, I achieved straight A's and breaking many long-standing academic records in the process. As a result of my achievements, I was able to become an instructor at Ohlone for ESL students. Due to my successes in Ohlone, I was able to transfer to the University of California, Berkeley and start new here at the top public university in the world.  Here at Berkeley, I quickly became Human Welfare & Community Action Commissioner for the City of Berkeley and even director for the UC Berkeley Legal Clinic. Now most recently, I am an appeals specialist for the San Francisco District Attorney's Office.
My goal here is not to list out my titles, but show how I have changed as result of your faith, teaching, and care for me. It was through you, I learned professionalism, interpersonal communication, and most importantly how to be humble yet confident in myself. I know that you played a large role in these past successes and will continue to play a large role in my future successes as well. In the end, no matter what happens tomorrow, just know that you have already changed the lives of so many. There is no one more qualified and ready to become the mayor of Pleasanton. Best of luck tomorrow and thank you again for all that you have done for me!
Warmest regards,
One of your WTP students, 2009