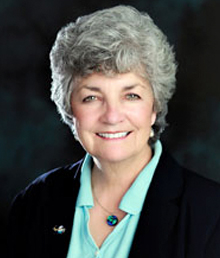 Carmen Ramírez, Director
Carmen Ramírez is a public official in California and has dedicated her career in office to improving Oxnard and the region now and for future generations. She was elected to the Oxnard City Council in 2010 and is currently serving her second term in office, starting in 2014. Ms. Ramírez was named mayor pro tem in December 2012. During the almost ten years of her term, she has never missed a council meeting.

Graduating from Loyola School of Law in Los Angeles in 1974, she was admitted to the California State Bar that same year. For sixteen years she was the executive director of the Channel Counties Legal Services Association, which served the legal needs of the poor in Ventura and Santa Barbara County. For nine years thereafter, she was the coordinator of the Ventura Superior Court's Self-Help Legal Center in the Colonia neighborhood of Oxnard, serving the Spanish-speaking community. She now maintains a private legal practice focusing social security disability and consumer law matters, as well as pro bono assistance.

For the City of Oxnard, she serves on the Ventura County Air Pollution Control District, the Ventura County Animal Services Commission, and Ventura County's Local Agency Formation Commission. She is also on the regional council of the Southern California Association of Government and is a member of its Energy and Environment Committee. In 2012, she was appointed by Governor Jerry Brown to serve on the California Commission on State Mandates (www.csm.ca.gov) and has been reconfirmed for a second term.

In 1998, she was president of the Ventura County Bar Association and remains active in bar activities. From 2005 to 2008, she was an elected member of the State Bar Board of Governors, overseeing the practice of the legal profession in California.

In addition, she has been active in many community organizations in Ventura County, including the Ventura County Community Foundation, El Concilio Del Condado de Ventura, Teatro de Las Americas, and the Ventura County Community Foundation. She is currently a trustee of the Colleges of Law for Santa Barbara and Ventura County and is long standing board member for the Center for Civic Education, a national nonprofit organization promoting the study and practice of democracy in the United States and throughout the world.